Christopher Eubanks Named Winner of the OPPO Breakthrough Inspiration Award at Wimbledon 2023
OPPO, the renowned worldwide smart tech firm and Partner of The Championships, Wimbledon, declared today that Christopher Eubanks has emerged as the recipient of the distinguished 2023 OPPO Breakthrough Inspiration Award.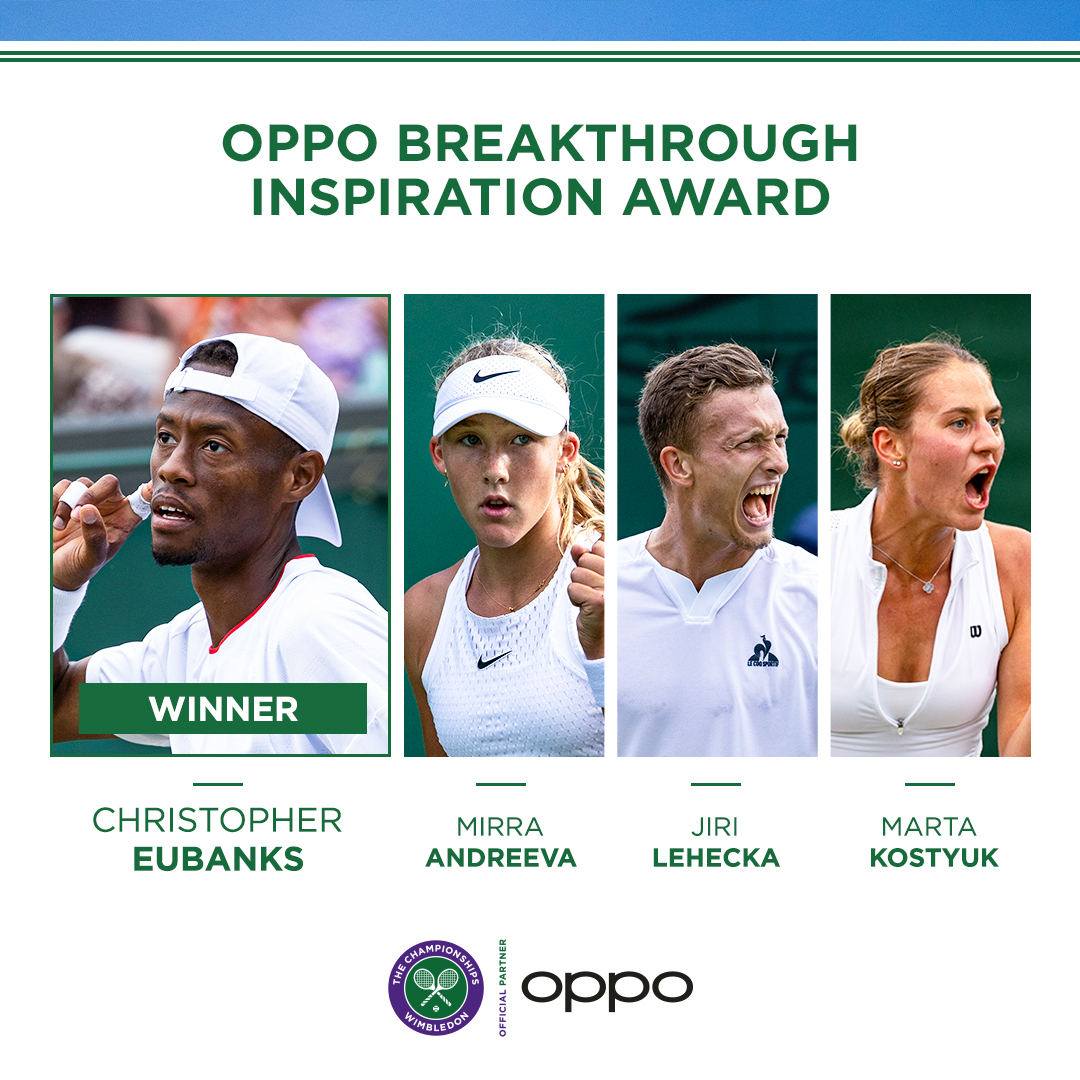 Christopher Eubanks, winner of the OPPO Breakthrough Inspiration Award 2023
Established to recognise excellent performances during The Championships, the OPPO Breakthrough Inspiration Award honours young players who have excelled and made breakthroughs and aims to inspire them to reach new heights in their playing careers.
With an exceptional level of skill and talent showcased through the event this year, Christopher Eubanks emerged as the winner after a rigorous selection process involving shortlisting by a panel of broadcast commentators and voting by global fans. This year's other shortlisted candidates also included Mirra Andreeva, Marta Kostyuk, and Jiri Lehecka.here.
A sensation at this year's Wimbledon, Christopher Eubanks roars to his career-high of No. 43 in the world and brings inspiration to all with his dazzling journey. With his remarkable performance and impressive career achievements, Christopher truly embodies the spirit of the OPPO Breakthrough Inspiration Award. His journey at this year's Championships fully reflects OPPO's brand proposition of "Inspiration Ahead", demonstrating traits of optimism, strength, and elegance. This year marks the fourth year since its inauguration in 2019 that the OPPO Breakthrough Inspiration Award has been presented by OPPO and The All England Lawn Tennis Club. Past winners include Carlos Alcaraz in 2022, Emma Raducanu in 2021, and Coco Gauff in 2019, all of whom exemplify OPPO's spirit of commitment and its hopes of inspiring global audiences to go beyond their limits to achieve success. Now in its fifth year, the partnership between OPPO and Wimbledon is built on shared values that have brought to life the powerful connection between technology, tennis and the exhilarating experiences that unfold on the courts of Wimbledon. As OPPO continues to champion the spirit of "Inspiration Ahead," it remains committed to supporting and empowering people worldwide to make a difference and find their own inspiration to succeed in the face of challenges. For more information about OPPO's initiatives at Wimbledon, please visit