Top 10 Emerging Technologies in IT and Tech Industry with Great Economic Opportunity
Top 10 Emerging Technologies in IT and Tech Industry with Great Economic Opportunity
According to a survey of CompTIA's Emerging Technology Community, which leads the world's high-tech industry, the Internet of Things (IoT) is an emerging technology that offers the most direct opportunities to generate new businesses and revenue. It is one of the
CompTIA's Emerging Technology Community announces the Top 10 List of Emerging Technologies 2019, ranked according to the short-term business and economic opportunities it offers to IT companies and companies engaged in other technology businesses. did.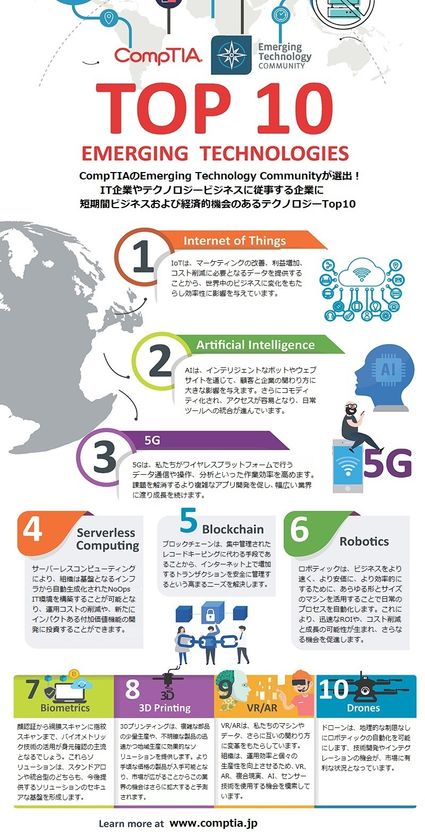 First place IoT: Following 2018, won first place for two consecutive years
"In the world of technology, many consumers hear the word IoT," said Frank Raimondi, a member of the CompTIA Emerging Technology Community's leadership group working on Chargifi's strategic channels and business development. You
"Even if it is modestly expressed, it is certainly complex and overwhelmingly influential. IoT may mean many things to many people, but IoT solutions related to existing and new customers Start adding more means more and more new business for channel partners, and more importantly, there is no need to start over again, "said Raimondi.
Second place artificial intelligence (AI)
"With AI, improving data security, speed and accuracy of decision making, and employee output and training will have a profound impact on all industries, from retail to healthcare, hospitality, and finance. Companies that adopt AI technology by building a system that feeds back actual data for better staff, better sales leads, more efficient problem solving, and future process and product improvements. You can use resources with much higher efficiency, and above all, costs will be reduced as investment and competition in the field of AI are intensified, "said Smith.ai's head of growth / education. Says Vice-Chair Maddy Martin of the Emerging Technology Community.
"Development and deployment of 5G is unmatched in business with traditional technologies, providing a high-speed, short-latency wireless network required for complex solutions such as unmanned vehicles To do."
CompTIA Emerging Technology Community Chair, said Michael Haines, Program Design Partner, Microsoft's Incentive Strategy Director.
"Also, when fully implemented, 5G helps emerging markets achieve the same" business speed "as mature counterparts. Providers developing 5G-based solutions for specific industrial applications Has the benefits of being profitable and acting faster, "said Haines.
Julia Moiseeva, founder of C-Level as a Service (CLaaS) Management Solutions and a member of the leadership group in the community, said, "The blockchain has a different form of the technology maturity cycle, It can be said that it has reached maturity, and a series of uprisings will come to a halt and I'll be calming down, and I think we'll move in a better direction again. "
"Now we are looking at building a virtual world blockchain-based solution to address real industry issues. Blockchain as a service (BaaS) should be the most notable. BaaS It gives big revenue and cost reduction opportunities for entrants who do not have the know-how and R & D ability to cross the industry, especially to develop their own blockchains.We head towards plug and play products It is moving, "explains Moiseeva.
Two new technologies, Serverless Computing and Robotics, have been ranked in the top 10 to replace Automation and Quantum Computers in the 2019 list.
Top 10 Emerging Technologies
The CompTIA Emerging Technology Community is comprised of executives and industry leaders who combine a keen sense of emerging technologies with insights into business opportunities and business transformation.
The CompTIA Emerging Technology Community, both as a seller of technology solutions and as a consumer of emerging technologies, is developing guidance to the organization on factors to consider when considering which emerging technologies are best for them.